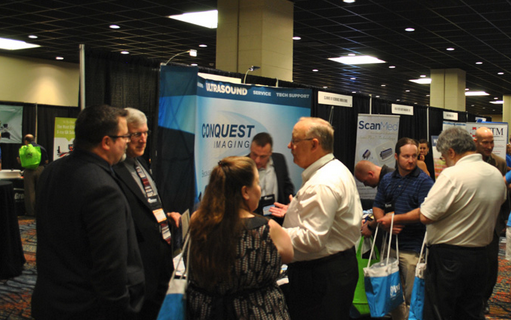 The second annual Imaging Expo drew hundreds of imaging service professionals from around the nation to Indianapolis. The exhibit hall featured 45 booths with more than 300 people in attendance representing more than 40 states.
Held at the JW Marriott in Indianapolis, the Imaging Expo built on its successful first conference held a year ago. Attendees were treated to world-class speakers and exhibitors during the three-day conference.
MD Publishing, the parent company of Medical Dealer magazine, offered a unique environment at the Imaging Expo where imaging service professionals interact with colleagues and vendors. The intimate setting provided countless networking opportunities as well as a sold out exhibit hall filled with the latest services and products.
Attendees said their interactions with vendors in the exhibit hall will help them do their job better. Early results of a conference survey indicates that 55 percent of the attendees will do business with 1 to 2 vendors as a result of their interaction at the Imaging Expo and 30 percent indicated they will do business with 3 to 5 businesses.
Several vendors commented on the quality of the attendees at the show saying "the people here are the exact ones I need to be seeing."
Popular networking events at the Imaging Expo included the Welcome Reception sponsored by RSTI. The reception included a celebration of RSTI's 30th anniversary of serving the industry. The Grand Slam at Imaging Expo was another popular networking event as a parade of attendees and exhibitor staff walked across the street to watch a Triple-A baseball game. The baseball game outing, sponsored by TriMedx, provided a casual atmosphere for networking with industry leaders.
Attendees at the Imaging Expo included radiology engineers, imaging technicians, national procurement mangers, vice presidents, medical engineering directors, CEOs, senior vice presidents, supply chain managers and others from the medical imaging industry.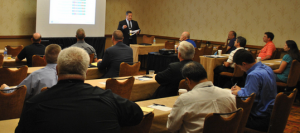 Attendees benefitted from educational opportunities with a variety of ASRT-certified classes and peer-exchange workshops. Attendees praised the educational seminars.
"An outstanding presentation," one attendee wrote in a class survey. "Organized with a plethora of anecdotal insights."
Another attendee was excited about returning to work to use what he had learned while at the Imaging Expo.
"Amazing, excellent content which has given me the ability to potentially effect change and for our organization to grow in the right direction," he wrote.
"Very good overview for any manager or director involved with system level imaging enterprise strategies," another attendee wrote.
For information and updates about upcoming conferences, visit MDExpoShow.com.