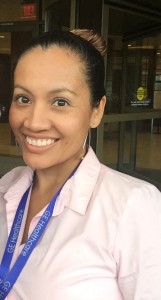 Sandra Calderon, Senior Biomedical IT Systems Analyst, INOVA Clinical Engineering in Springfield, Virginia, is the winner of the first-ever MD Expo Video Contest!
Her informative and humorous video was a hit and earned her a $100 poker chip and a TechNation prize pack! Calderon will be presented with her prize at the MD Expo, being held at the Red Rock Casino, Resort and Spa in Las Vegas, Nevada.
Monthly winners Jamison Ashby and David Townson each won a pizza party for their department. Ashby is a Senior Imaging Engineer at Waukesha Memorial Hospital in Wisconsin. Townson is a BMET III with the Erlanger Health System in Chattanooga, Tennessee.
For more than a decade, MD Expo has set the bar for HTM conferences. It is the industry leader in providing avenues for honing one's professional knowledge, networking and career advancement through classes, as well as networking opportunities.  The MD Expo offers hours of educational seminars eligible for ICC certification. Over 100 vendors will present the latest technology and cost-saving resources during the conference.
For more information about MD Expo, visit MDExpoShow.com.